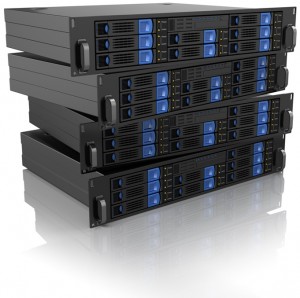 Within a business or even at home, it is a vital component of your infrastructure and system to include a method of backup to protect your data. Data backups are a necessity especially in enterprise because important documents required to ensure your companies day to day functions and imperative services could become corrupt or inaccessible at a moment's notice, possibly halting all organised work within the company. The Businessland-Group has solution for both home and business data backups, providing the choice between an automated cloud based backup or a manual in-house NAS setup providing RAID configuration solutions.
Our cloud storage setup allows users to access their files from anywhere whilst being assured its safety, data is securely stored within custom volumes which can be suited around how much space you need. With the cloud service no matter what kind of disaster may occur your data will at the very least be available for you. To ensure the best service from our cloud storage you should have a medium to high speed internet connection to make sure the download/ upload speeds are capable of backing up your data reliably.
Our in-house backup solution is a custom RAID configuration at your premises, set up as a NAS server you can have any type of RAID you need to set up such as RAID 0, 1, 2, 5 or 1+0 to ensure your files absolute security, every file automatically copies onto multiple hard-drives so that even in the event of failure it will be automatically restored from the multiple mirrors. RAID is the essential backup systems that all enterprises should invest in.
Tape drives are also an alternative but have become redundant, usually only used on legacy systems. Support is covered however we do not recommend them in today's business infrastructure.