As you are aware some fixed lines have a poor quality meaning reducing in speeds of under 5mb which for business use is very limited when multiple users are all using at the same time.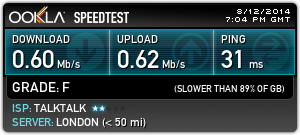 We propose a solution where you are able to have a new device that runs off of the new technology of 4G, until now 3G was available to do this but was not fast enough to be viable for businesses to run.
We will do an onsite survey using our demo equipment to give an estimate speed and see how reliable the connection is.
The equipment does not interfere with your current network as this runs separate until we replace your current solution. So no down time will result for your users when doing the full testing.
If you use this for office use with no on site servers for web hosting, email, file service etc this will be ok for you. If you run any one of the services that require a static IP then this isn't possible as of yet. EE are looking at providing static IP's within 2 years.
The time taken to do the test will be about an hour, we would do various speed tests. Report the current business network yefficiently and have minimal down time.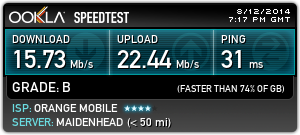 You would need to sign up for a 4G tariff with EE of which we can advise you which tariff would suite your company.
As you can see from our results at one of our test clients the business was getting 0.6mb shared with 16 computers, of which is not practical.
Using our solution our client was now experiencing the speeds shown below, the actual speeds that are shown is using a antenna indoors. We will be soon uploading a new image with an external antenna.